Barriers to recovery from serious mental illness ("psychosis")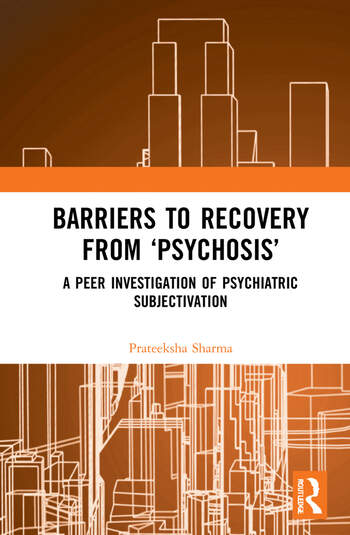 In this post I share about a forthcoming book. This book is the outcome of my three decades of engagement with the field of mental health and the more focused work that happened since 2016- my doctoral research. But this is more than the PhD thesis as the year after I earned the degree my ideas went into newer direction about the politics of knowledge and I have written about psychiatric knowledge in the context of decoloniality.
This is a first announcement by the publisher and the prices as visible on the website is for the UK/US market, primarily targeting libraries, not individuals. This is a research book and though such writing is ordinarily not targeted at a commercial readership this book has findings which are meaningful for a large number of people.
Once the book is out in the international market after two or three months its South Asian edition will be published, prices suitable for readers in South Asia. Even in the international market after the hardcopy it will be released as paperback.
In the link shared here if one were to click the link below, you will see the blurb, a list of contents, endorsements by senior and young academics from across the globe and a preview of the text. The reader gets to read the preface, foreword by Prof. Amita Dhanda (Professor Emerita, National Academy of Legal Studies and Research, NALSAR- Hyderabad), acknowledgements and possibly the first few pages of the first chapter.
Please click here to take a look at the publisher's website. Closer to the date of publication in South Asia I will write another post. In my next post I hope to share about another book which will be freely distributed; anyone can request a PDF copy It is currently being edited by a retired professor of NIMHANS, Bengaluru.