Can Pacifists like Modi and Macron help to nudge the world towards peace?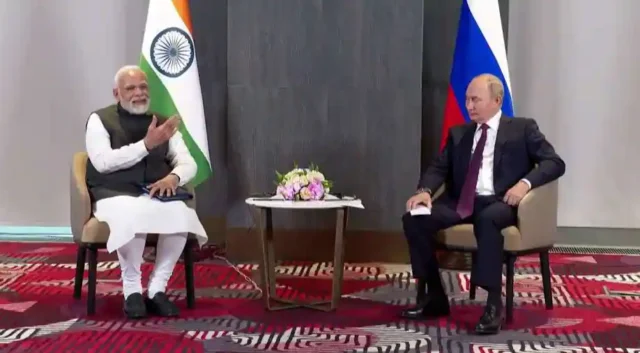 War helps no one on this planet – specially not the people, plants and all living beings who inhabit it. One Vorld One Universe One Mankind is the guiding principle, which will help resolve all issues. One would like to promote world peace, but with dignity for all and without compromise to extremism. There are hardly any who talk about peace in the present scenario in Europe. However two leaders who stand out and are proactive about peace are undoubtedly Modi and Macron. PM Modi's role came into limelight during SCO summit, but ever since war began he has been talking about peace privately to Putin and also Zelensky. On the other hand President Macron met President Putin in Moscow, way back in February 2022 aiming for a de-escalation.
Prime Minister Narendra Modi's advice to Russian President Vladimir Putin over the Ukraine war during a bilateral meeting on the sidelines of the Shanghai Cooperation Organization (SCO) summit at Samarkand in Uzbekistan has created hopes that perhaps it might be a catalyst to the end of Russia-Ukraine war. While his intervention has received approval from the world leaders, it has also grabbed the attention of leading international press and media

Japanese publication, NHK headlined "Indian PM Modi tells Putin to pursue peace", Even Chinese media approved of it as the Hong Kong-based l South China Morning Post reported: Now is 'not a time for war', India's Modi tells Russia's Putin who agrees to 'end this as soon as possible.'
Politico from US reported; "India's Modi tells Putin: This is 'not the era for war" and US News headlines was "Indian PM Modi Tells Russia's Putin Now 'Is Not an Era of War".
On Internationally telecast media, while expressing his concerns about the impact of the war on food and energy security, PM Modi told Putin, "Today's era is not of war and I have spoken to you about it on the call. Today we will get the opportunity to talk about how we can progress on the path of peace. India and Russia have stayed together with each other for several decades,"

"We spoke several times on the phone about India-Russia bilateral relations and various issues. We should find ways to address the problems of food, fuel security and fertilizers. I want to thank Russia and Ukraine for helping us to evacuate our students from Ukraine," the Prime Minister added.


International media appreciated PM Modi's diplomatic tact, who in a friendly manner pushed the concerns of the world at large to its long-standing friend Russia.

CNN appreciated PM Modi's understanding of the situation and reported " Indian leader Narendra Modi tells Putin: Now is not the time for war"

Washington Post, headlined "Modi rebukes Putin over war in Ukraine".

"India's Leader Tells Putin That Now Is Not an Era for War," The New York Times said in its headline
Following the SCO summit, India's role as a peace maker was applauded at the 77th UN General Assembly by world leaders. French President Emmanuel Macron proclaimed that Indian PM Modi was right when he said that time is not for war, not for revenge against the west or for opposing the west against east. It is time for our sovereign equal states to cope together with challenges we face: . German envoy quipped "very well put" to PM Modis remark on the Russia Ukraine conflict. US National Security Advisor Jake Sullivan cited Modi's remark urging Putin to end the war. Other world leaders like Ukrainian President, Volodymyr Zelensky , Russian Foreign Minister Sergey Lavrov,also cited Modi's advice in their speeches. Indian External Affairs Minister summarized; "I am concluding this week with the sense that India really matters more in this polarised world and much of that is also due to the Prime Minister's leadership, his image, what he has done on the global stage,"
PM Modi also had a telephonic conversation with Ukrainian President Volodymyr Zelensky wherein as per official sources, he conveyed India's readiness to contribute to any peace efforts in the Russia-Ukraine crisis. he stated that there can be no military solution to the conflict and reiterated his call for early cessation of hostilities and the need to pursue the path of dialogue and diplomacy..
Unlike India, France did not take a neutral stand at UN and voted against Russia in the security council. Yet even before PM Modi's advice to President Putin Macron has been advocating a reconciliatory approach. As reported by world media, including EuroNews
As far back as May 2022, French President Emmanuel Macron has warned against humiliating Russia for its invasion of Ukraine, if and when any peace settlement is agreed.
He told reporters in Strasbourg that once the war ends, Moscow and Kyiv will eventually have to sit down and negotiate with each other, so any further tensions will only serve to the detriment of the situation.
"We will have a peace to build tomorrow, let us never forget that," Macron said on Monday. "I mentioned this earlier. We will have to do this with Ukraine and Russia around the table. The end of the discussion and the negotiation will be set by Ukraine and Russia. But it will not be done in denial, nor in exclusion of each other, nor even in humiliation."
Macron also laid out his vision of a broader community of European democracies that would allow for deeper cooperation between non-EU countries. (EuroNews 9th May)
Even earlier on February 7, 2022 NY Times headline news was "Macron meets Putin in Moscow, aiming for a de-escalation". It went on to add "President Emmanuel Macron of France, who has positioned himself at the center of Europe's furious diplomatic maneuvering over Ukraine, said on Monday that the continent was at a "critical crossroads" as he met in Moscow with President Vladimir V. Putin of Russia"..However there were murmurs of disapproval by some other countries watch the vido below to get both sided of the story.
---
Our Columnist Sunil Sarpal recalls the recent background to this war.

The war between USSR and Ukrain broke out approx. 6 months ago.  The cause of disenchantment was that USSR did not want Ukrain joining NATO.  USSR feared that if Ukrain, whose border separates the two nations, join NATO, other NATO affiliated nations' forces could line up Ukrain border and intimidate USSR.   As of now, the situation has unfolded that 20% Ukrain territory is under USSR control and the war goes on unabated.  The devastation took place because of the war is unprecedented. 
Is Zelenskey responsible for the war or Putin ?
Putin's invasion of Ukrain proved a total miscalculation. As days progressed, it seems that the war will go on and on. Because Ukrain forces retaliated in such a manner that USSR forces ran away from the warring zone, leaving behind tanks, arma and others weapons in order to save their lives.
On both sides, the loss of lives and infrastructure took place as never before.
When war broke out an assurance came from none other than USA to Ukrain that they are whole-heartedly behind them, but USA never sent his forces to Ukrain. Of course, sanctions and war-related weapons etc have been supplied by them as well as by Germany. The fear factor on the part of USA could be that if their forces join hands with Ukrain, it would turn out to be a world war.
If Ukrain President Zelenskey is so very stubborn to prolong the war and asking for help from USA and other nations, then Ukrain inviting more trouble. The complete devastation of Ukrain could be averted if Zelenskey relents to Putin's stand. On the face of USSR might, Ukrain's defeat is on the cards whatever or how much coming their way.
In this war, both Putin and Zelenskey are held responsible because of their respective stands.  Attempts have been made to kill both Putin and Zelenskey separately thru bombs but both escaped unscathed.
---
But will the momentum for peace, proposed by pacifists like Modi and Macron, gather pace or will temporary victories or setbacks of either side stall the move towards détente, remains to be seen – Manohar Khushalani.