Chain of Massive Surprises in Two Punatsangchhu Projects – Yoginder Sharma
CHAIN OF MASSIVE SURPRISES IN TWO PUNATSANGCHHU PROJECTS
– Huge Setbacks Due To Failed Assessments Of Geology & Rock Supports
There is a strange coincidence of massive geological surprises and huge rock mass failures, which happened in the two mega hydroelectric projects named Punatsangchhu -I & II H E Projects, under construction since 2009 -10 in Bhutan.
The Punatsangchhu-I Hydro Electric Project (PHEP-I) a 1200 MW project with scheduled commissioning date of year 2016 at cost of Rs. 35146 millions, new approved Cost of Rs. 94000 millions (US$ 1.34 billions), expects further escalation in its cost possibly to Rs. 121000 millions (US$ 1.74 billion). The Head race tunnel and Desilting Arrangement lying completed since 2015, Powerhouse complex 98% ready have an already incurred cost of about Rs. 80000 millions . However, even the start of concreting for construction of 136m high dam is a big uncertainty after its Right Bank suffered a massive slide with continued movement of the big hill mass about 1000m height towards valley and downstream by 5m and vertically subsiding by 5m in a week in July 2013.The hill mass movement has continued at slower pace for more than year, sliding on SZ-2 Shear Zone.
The Punatsangchhu-II (PHEP-II), a 1020 MW project with scheduled date of commissioning of year 2017 at cost of Rs. 37778 millions, new approved project cost of Rs. 72900 millions ( US $ 1.04 billions), expects further escalationin its cost to Rs. 80000 millions ( US $ 1.14 billions), with already incurred cost of about Rs. 65880 millions, is delayed due to the huge rock mass failure in its underground Downstream Surge Gallery (DSSG), resulting in a huge cavity of about 91m height x 70m length and 45m width in the crown of the DSSG. The Dam foundations had encountered, a thus far unexplored, mega shear of maximum 30m width, cutting across the length all the 4 dam blocks diagonally. The shear zone with its about 35ᵒ to 45ᵒ dip, continued under the foundations to large depths.
Occurrence of too many geological surprises, the apparent cause of the big mishaps in the two mega Projects, intrigues one to investigate if ' harping on the geological surprises' was only a scapegoat for the lack of proper geological investigations and inappropriate design done by the Consultants.
1. PHEP-I Dam Right Bank Failure :
| | |
| --- | --- |
| | |
| Shear Plane Continuity in to the hill was NOT detected by Consultants from Geological Investigations done in 2011 and therefore not provided for in Design of rock support for excavated slope | SZ-2 Shear Zone, the cause of the huge hill mass slide, delineated to be dipping sharply in to the hill was established through additional drill holes done in 2014, but only after the slide in 2013. |
* Read full story in next article



2. Mega Shear Encountered In PHEP-II Dam Foundations
| | |
| --- | --- |
| | |
| Geological X-Section At Dam Axis (DPR Stage) Shows No Shear Zone in the Dam Foundations | Geological X-Sections Depicting Shear Zone at Dam Axis, Ch. 40m,60m and 80m D/S of Dam Axis |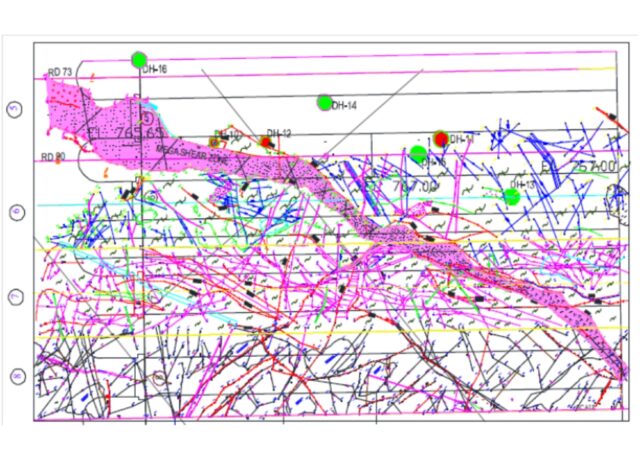 Shear Zone Traverses From Heal in Block 5 to Toe in Block 8
with Trend 35ᵒ-45ᵒ/N070 -080 With Affected Zone 4m to 30m Wide
* Read full story in separate article coming up shortly



3. Huge Rock Mass Failure In DSSG of PHEP-II :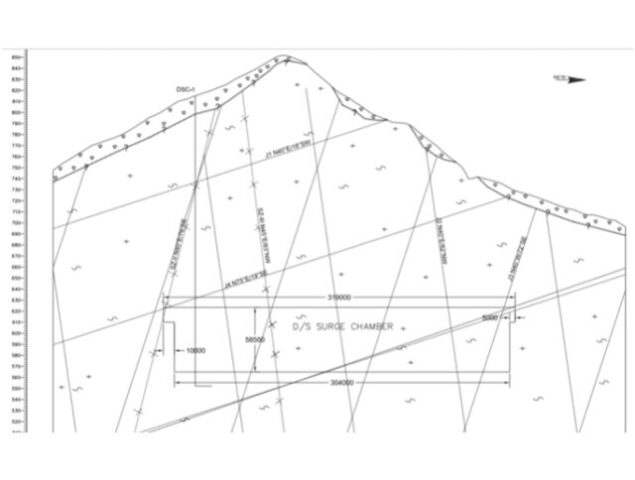 Geological X- Section of DSSG Assessed By Consultants Showed No Shear Zone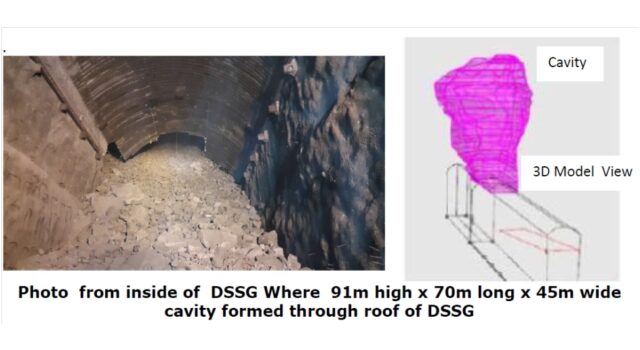 The massive rock fall in the Downstream Surge Gallery Cavern happened on 03 March 2016 during the progress of benching excavation in the cavern. The cavern had been excavated to its 2/3 rd depth and the crown stood intact for three years before the rock fall. Six technicians of those working in the cavern at the time of collapse got buried alive under the falling muck and died.
* Read full story in separate article coming up shortly


The individual case studies of the Rock Mass Failure in Punatsangchhu-I Dam ; Encounter of Un-Explored Mega Shear zone in Punatsangchhu-II Dam; and The Huge Rock Mass Failure in DSSG of Punatsangchhu-II HE Project, dealt in details, shall be posted separately soon please.