Discussion on politics of Delhi's dirty water | ABP Hindi News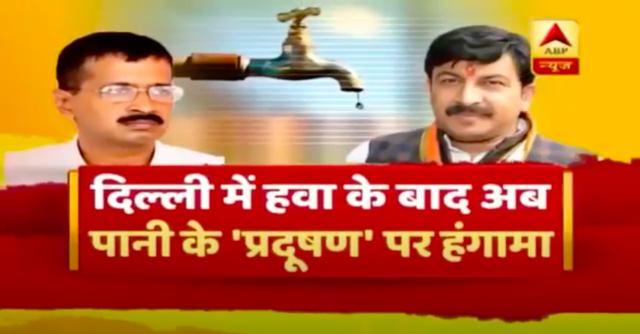 Professor Manohar Khushalani was invited on a panel discussion on ABP News with the anchor Romana Israr Khan on the segment 'Samvidhan Ki Shapat', on Monday, the 18th of November at 5 PM.
The panel began with an introduction about the political twist in the heated pre-election environment on the report on the quality of water in Delhi released by Ram Vilas Paswan, the Union Minister of Consumer Affairs, Food and Public distribution. The claims of terrible water quality were refuted and questioned by Arvind Kejriwal, of the Aam Aadmi Party.
(Professor Manohar Khushalani with Mr. Harish Khurana, Mr. Haroon Yusuf, Mr. Raghav Chaddha and the anchor Romana Israr Khan)
Along with Professor Manohar Khushalani, the ex-director of National Water Academy, Mr. Harish Khurana, the spokesperson for BJP, Mr. Raghav Chaddha, the spokesperson for AAP and Mr. Haroon Yusuf, the spokesperson for INC were present in the panel debate.
The debate opened with Mr. Chaddha claiming that Mr. Gajendra Singh Shekhawat, the Minister of Jal Shakti had previously reported in September that the quality of Delhi's water fared even better than the water quality in Europe and that Mr. Manoj Tiwari had agreed to the claims. AAP refuted the claims saying the samples were selectively chosen and misconstrued to present a defeating image, citing political reasons. It is important to remember that the World Health Organization states that 80% of India's groundwater is contaminated by various organic and inorganic pollutants and that India is ranked 20th out of 122 countries in WaterAid's water quality index. Mr. Khurana refuted the previous report by Minister of Jal saying his statements are being distorted to suit a narrative and the state of India's water quality is grim and unfortunate. This discussion revolving Delhi's water quality is of immense importance as approximately 2439 people have lost their lives in 2018 alone to various water-borne diseases such as Chlorella, Typhoid, Hepatitis amongst others. Mr. Manohar elaborated on the technicalities behind report finding and lauded the authenticity of the Bureau of Indian Standards but went on to state how 11 reports alone weren't enough to gauge the quality of water, especially citing the lack of information surrounding the report. A very significant point was bought to notice by Mr. Manohar who reminded us of the importance Air and Water quality holds to the residents of every area, how previously our surface water was clean and the storm-water drains created during the British era were perfectly functional. But with the advent of covered up drains and Unauthorized colonies, Chemical farming, usage of fertilizers has led to a decrease in the quality of water and improper sewage system has caused our water to pollute.
The extremely heated and informative discussion ended with anchor divulging into the importance of Air and Water quality to the standard of living of the citizens of the country, and how it is important that the politicians look beyond the politics and genuinely improve the quality for the people. You can watch the entire discussion and find more information here- Panel Discussion on water