Chennai Water Crisis: Day Zero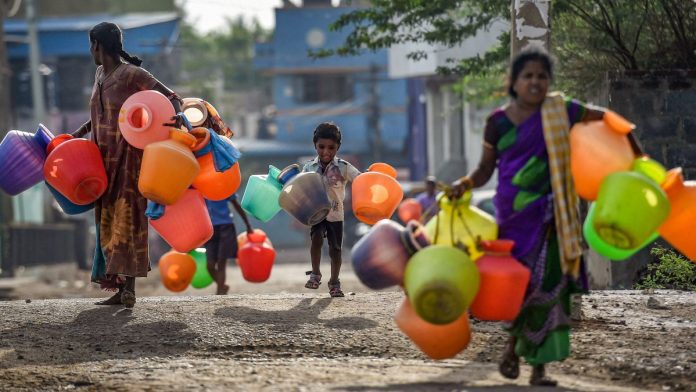 NDTV 24×7 conducted a live debate on 18th June 2019 from 8.30 to 9 pm. The Program was titled Reality Check. It was anchored by Vishnu Som. The panelists in the discussion were S Muralidharan, Prof. Manohar Khushalani and TKS Elangovan.
Please Also Subscribe To Our YouTube Channel OneVorld by clicking below
https://www.youtube.com/channel/UCI3gjJVwqz_0ZnU2i-TIo8w?sub_confirmation=1
NDTV has conducted a survey in chennai asking the general public about various problems that they are facing related to water. The residents then told the channel that they have to wait for hours in line to collect some water for every 2 days. Some of them even said that they don't get enough water to bath. 
According to a london-based risk analytics firm, Chennai is facing "the most extreme risk" of water stress and that this situation could be the new normal for millions of people. Chennai, he said, gets an average of 54 days of rain per year, yielding an average rainfall of about 140 centimeters (55 inches). Its failure to collect the rain that falls, especially during poor monsoons such as that of last autumn, leads to what he called a "man-made" crisis of scarcity. Less than four years ago, Chennai saw devastating floods that took at least 422 lives in Tamil Nadu and caused up to $14 billion in damages. But most of that rainwater flowed into the sea, lost forever to Chennai's parched groundwater reserves. As the coastal city anticipates its upcoming autumn monsoon season, residents and experts have criticized authorities for failing to rehabilitate a notoriously mismanaged water supply.
Unless we capture the rain that falls in those monsoon days, we will run out of water
Manohar Khushalani stated that the big factors that have led to this crisis in Tamil Nadu are deforestation and mining, in other words construction of buildings for development is in the process.. These types of constructions have halted the recharge of lakes and reservoirs that supply water to the households, and since the recharge has stopped, the major lakes and reservoirs have gone completely dry. Even the amount of rainfall has been declining and that amount was not enough to recharge the lakes.
Water tankers are being called into most of the areas of Tamil Nadu which are facing drought. However, government tankers can take up to a month to appear after requested, so some families, wealthy residents, and business owners have opted to pay for costly private water tankers. The poor who live in slums do not have this option; a family in Chennai's slums may receive as little as 30 litres (7.9 US gallons) of water every day compared to an average American household which uses 1,150 litres (300 US gallons) of water a day.
S Muralidharan mentioned the fact that Tamil Nadu contains 6 percent of India's population and it covers 4 percent of India's land area but still the state only receives 2-2.5 percent of the water provided. This tells that Tamil Nadu has already become a dry state and is facing water crisis currently.
What steps have been taken to improve the situation?
The Chennai Metropolitan Water Supply and Sewage Board, which is responsible for the city's water supply, has pushed for lakes to be desilted, allowing them to be used for water storage. The state government said in response it has begun to set up 270 water purification centers and has recently begun construction on Chennai's third desalination plant, after which the government said the city will no longer have to rely on monsoon rains.
Under former Chief Minister J. Jayalalithaa, who served in the role for over 14 years, Chennai made rainwater harvesting compulsory, requiring every building to install a water catchment system on its rooftop and pour the collected rainwater into the ground. However, when a survey was conducted regarding this, only 40 percent of the buildings were found to be complying with this law. The following three years brought heavy rains and, he said, dramatically raised the groundwater level, filling dry open wells for the first time in decades. Though the 40 percent compliance rate was a good start, it wasn't good enough for the state to come out of the water crisis.
The city already has two desalination plants with capacity of 210 million litres a day that service the northern suburbs. A third 150 million litre plant costing nearly Rs 1300 crore would be ready next year. 2 new recycling plants are also being built which will have a capacity of 120 million litres a day. This will free up domestic drinking water supplies and reduce the reliance on the already stressed ground water resources.
Watch More Programs on this Subject by clicking on the playlist below: